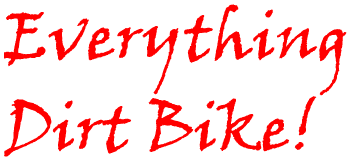 FastCounter by LinkExchange
Want To Sell It? Post It Here!
Want To Buy It? Look Here!
E-Mail Your Comments And Suggestions.


Dirtbike Power Search...Click Here!

PLEASE INCLUDE AN EMAIL ADDRESS, OR PHONE NUMBER IF YOU POST AN ITEM FOR SALE.
You Might Also Include The State In Which You Live

ONLY POST YOUR MESSAGE ONCE
IF YOUR NEW POST DOES NOT SHOW UP RIGHT AWAY, HIT "RELOAD"
---
[ Post Message ]
---